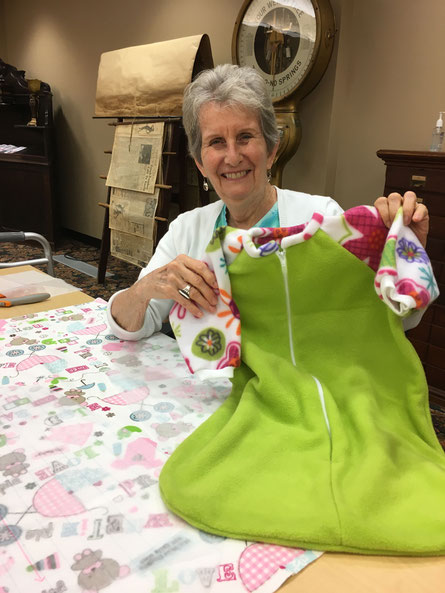 The Battle Creek Neighborhood group met to plan the first half of 2023.  Their meeting activities are all posted on the GRASG calendar.  Take a peek at the calendar to see some of the fun things coming up.  They meet on the fourth Monday of each month. Time and location are on the calendar.  Just click the calendar tab above.
Safe Sleepers story
For years the Kalamazoo chapter has stitched Safe Sleepers for Grace Health in Battle Creek.  Safe Sleepers are essentially a fleece or flannel sleeping bag that promotes safe sleeping…no blankets.  Both Battle Creek and Kalamazoo members embraced the project.  However, as membership has diminished and members have grown older, it has become more difficult to achieve the goal of 200-250 sleepers annually.  We have some remaining fabric…we're going to cut it, stitch it, and give the sleepers to Grace.  It will mark the end of this long-term project.
For GRASG, the New Year has begun with a jump start!
The Monday morning NE Neighborhood Group met to work on their projects for 2023.  Fittings, quilts, and discussions about some new events for the year kept the room buzzing. 
(Second Tuesday evening,) at the CHAPTER meeting, some of the new chapter members from the former Kalamazoo chapter, participated in the Zoom meeting featuring Angela Wolf.  Angela literally blew us off our feet with a wonderful presentation.  Her focus on jackets and embroidery mesmerized us all.  Stories, beautiful samples and tips on how to polish a garment kept our attention. We could have listened almost all night.  Everyone was inspired and ready to kick off 2023 with more ideas than we know what to do with.   
The (third) Tuesday Evening Neighborhood group saw seven ladies bring various projects to the Plainfield Senior Center.  Consulting with each other was the main activity.  How to use a certain fabric for a coat was a topic that drew attention.  Several people were cutting out a new project and one was knitting.  So…While the stated focus of this group is fitting, it really has to do with 'getting together' to discuss the sewing topics of the day.  
The Battle Creek Neighborhood group, that meets the fourth Monday, has yet to meet under the GRASG umbrella.  Hopefully, we will have something to report after that date.    
 The Kalamazoo Neighborhood group, that meets the second Tuesday of even numbered months, is voting to consider a different time to meet so they will be free to attend GRASG Chapter meetings that on the second Tuesday if they choose.  Stay tuned for more about that later. 
At any rate, GRASG is off to a great start for 2023!  We are certainly making up for lost time with Covid.   YAY!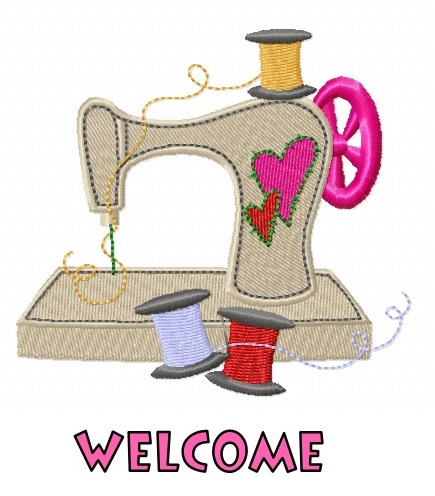 Welcome to incoming members from the former Kalamazoo ASG Chapter. We look forward to expanding and meeting new sewing friends.  Since the distance can be difficult for former Kalamazoo members to travel for Chapter meetings in Grand Rapids, they plan to meet in their established Neighborhood groups.  However, Grand Rapids is happy to welcome them to Chapter meetings (especially our Zoom meetings), CAB meetings, special events , field trips and retreats.  Grand Rapids members are also welcome to attend Kalamazoo and Battle Creek Neighborhood meetings too.  
It has been a busy fall 2022 for GRASG.
A whole album of photos were collected from these events. A few are posted here, but the rest can be seen on the photos tab of this website.
November 15 - November's Chapter meeting 
A Night to Remember
Oh, What a Night! for members who braved the first snowfall of the season to celebrate the 25th Anniversary of the Grand Rapids Chapter of the American Sewing Guild.  'Celebrate' is too mild a word for the wonderful time had by all.  Nancy started the meeting saying, "It takes a village"…  Then the memories began.  She started with recognitions and stories of those who served in the past 25 years and the many events and field trips we have shared along the way. She reminisced the meetings of the past year, remembering the wide variety of topics covered by our speakers. We reviewed the Community Service projects and recapped so many things we learned from the many national speakers and the sharing of knowledge that passes so freely between us. 
Renee mentioned that tonight was our annual meeting and we voted for and elected our officers for 2023.  Kate won the 'silver anniversary drawing' for the $25 gift card.  Then we took a break to celebrate the 'silver anniversary cake' and gluten free carrot cake cupcakes and punch.
The 'silver activity' had everyone in stitches, or should I say, 'in foil.'  Everyone received a long piece of aluminum foil.  We were given 10 minutes to make a wearable.   Oh what a night!!!  Pictures do not do justice to the creativity, laughter and fun in the room. The wearables were priceless.
We had Show-and-Tell with some delightful creations crafted by our members.
Judy Ritz concluded the meeting with another walk down memory lane with her delightful sewing antique display.  There were antique patterns, a cherished button catalog, a tiny working sewing machine, sock darners and many more treasures too numerous to mention.  The walk down memory lane for the night was complete.
Thank you to Nancy and all the helpers behind the scenes who helped make this night such a huge success.
October 14-16 – Twenty four ladies gathered at the Bluegate Inn in Shipshewana for the Annual Sewing Retreat.  There was a lot of sewing and shopping going on.  Everyone accomplished more than they could have at home and had a great time doing it.  Show and tell had a wonderful assortment of projects including aprons, pillows, pajamas, bathrobe, bras, placemats, bowl cozies, cute stuffed frogs, door and wall hangings, clothing in various stages of completion and more.  There is never a dull moment at retreat.
October 11 -  After an icebreaker game, Jo McGavin presented a program on Ergonomics and Sewing Room Organization.  We learned all about how ergonomics is 'fitting a workplace to the user's needs.' That involves furniture and other sewing room fixtures that are adjusted to accommodate the height and comfort of the sewist. Posture is an important element.   She tied that concept into sewing room organization.  Everyone took at least one idea home to help them sew more comfortably.
September 24 – A number of our members shared their love of sewing at Camp Anna Behrens with Cadet Girl Scouts.  Rita Reimbold organized an event to Teach Another Generation to Sew.  Nineteen girls made string backpacks and LOVED it!  In fact, it was the most mentioned event in the evaluation at the end of the Cadette camping weekend.  And…they want us back again!
September 13 – Our Chapter meeting welcomed Judith Rasband and Lorraine Henry.  Judith an image consultant from Utah, presented a program on She discussed the body shapes from the triangle, rectangle and hourglass, to the round, diamond, tubular and more, showing the different styles that are worn by people with those figure shapes.   It turned out to be a very popular topic with the GRASG audience.
August 20 – The Monday Morning NE Neighborhood Group met at Faith Lutheran after a summer break.  How nice to get back together again.   They met the end of August because the first Monday of September is Labor day. 
August 9 - Our Annual Picnic Potluck looked a little different this year.  We didn't meet to sew, but did meet at Faith Lutheran Church to share a meal and drop off socks for the 'In the Image' back-to-school sock drive.  After dinner, we all settled in for show and tell to hear the stories of success and lessons learned as we viewed an array of summer projects.
GRASG has enjoyed many events since the last posting in April. 
CHAPTER MEETINGS have resumed and fascinating speakers have presented.
 In May, RagTops Hat Maker, Nate Bont Intrigued our membership and became an instant hit with his personable stories about his hat business.
In June,  Bonnie Brooks spoke about her bjb business. Bonnie makes custom bags.
The September meeting will feature Judith Rasband, from the Conselle Institute of Image Management in Orem, Utah.  
In summertime, meetings take a break, but many other local events have drawn members out on FIELD TRIPS.
April 7, Ingrid arranged for a trip to see Fashion in Nature at the GR Public Museum.  What some thought would be a ho-hum event turned out to be really great!
July 12, Dawn hosted a field trip to the Muskegon Art Museum to see the "Dressing the Abbey" exhibit from the Downton Abbey show.  What a great event!
August 9 is the day reserved for the annual PICNIC / POTLUCK.  This year it will be at Faith Lutheran Church.  See GRASG calendar for details.
In September, GRASG will participate in the ASG movement to TEACH ANOTHER GENERATION (TAG).   Members will travel to Greenville to Camp Anna Behrens to work with Girl Scouts.  They will be making string backpacks.  A lot of enthusiasm and surprises are planned for the girls attending that special event.
October 14-16, we will go to Shipshewana for our annual RETREAT.  That weekend is packed full of sewing, camaraderie, theatre, shopping and great fun!  This year, non-ASG members are invited to join us.  
April Magic was in the Air!
Spring is here and the Grand Rapids Chapter of American Sewing Guild finally met again in person.  What a treat to be with our sewing friends and have Beth Usadel come to teach us how to draw a croquis!  Besides using the 8 circles of height as a guideline, she discussed different methods of getting a proportional croquis for each individual.  She had marvelous handouts that will help us long after the meeting is over. It was a fun exercise and found the room quiet as we all got into doing our sketches. 
After break, we gathered around for Show and Tell.  We have not been able to see projects in person for quite some time due to the pandemic and Zoom meetings, so stories and precious projects entertained us for a while. 
       

Aileen was pleased to try something new during the pandemic. Mary made a new shirt, a lovely bag and an in-the-hoop bear.

       

Connie showed us her layered fiber art projects.·

      

Mary made a shirt, a purse and an in-the-hoop bear.

      

Rosemarie made a fun chef hat for her sister and a bag for others for a special upcoming event.

      

Nancy B. created a beach bag and matching hooded towel for her grandchild. 

       

Nancy W made a blouse for a display at Fields and also made seasonal covers for an antique high chair. 

       

Pam did a beautiful quilt.

       

Sarabeth made 4 quilts we haven't seen before.

      

Starr did a unique pillow. 

      

Our new member Sue, made a great jacket and also a lovely appliqued dish towel. 
Go to the photos tab and see all of the creative ideas and projects our wonderful friends have made.
We also welcomed new and returning CAB Members:
Rita Reimbold - Taking on the TAG Project (Teach Another Generation)
Ingrid Amonette - Organizing a fieldtrip to the Gr Public Museum to see the "Fashion and Nature" Exhibit.
Dawn Tarr - Organizing the fieldtrip to the Muskegon Art Museum to see the Downton Abby exhibit, "Dressing Abby" in July.
Nancy Jackson  
The Evening Neighborhood Group is starting up again.  Renee Fries and Rita Reimbold will be leading the group on the third Tuesday evening of the month from 6-9pm at the Northview Senior Center.  For the first meeting on Tuesday April 19, 2022 you are to bring whatever you want to work on.  We will be meeting in the large meeting room where Chapter meetings take place.  After the first meeting, the focus will be on FITTING.   So grab a project, sewing tools and even your machine if you like, and join us for the evening Neighborhood meeting.
Upcoming Community Events:
Muskegon Museum of Art is hosting The Dressing of Abbey
It runs from June 23 through September12, 2022. Dressing the Abbey weaves popular culture, fashion, and history in an exhibition borrowed from Downton Abbey's™ wardrobe.
March Meeting:
The March GRASG Zoom meeting was another great learning adventure. Before the meeting, we received an email with notes highlighting the process. Dawn Tarr, from our local ASG chapter, demonstrated how to copy a ready-to-wear garment. She used clear plastic bags, exam table tracing paper, a sharpie marker, a straight ruler and a hip curve ruler. She made it look so easy! She showed the process, taking care to show how to get a good copy of the back, that folds under when flattening the garment to copy. She traced every feature: pockets, fly front, belt loops, seams, the whole thing on clear plastic. Then she traced the plastic drawing onto pattern tracing paper marking every detail and adding side seams and notches.
When finished with the demo, she showed finished garments she had copied. They were amazingly perfect replicas of the original fit and style! Voila! It was a great learning experience and a method a number of us members will be trying soon.
January Meeting:
Thus far, 2022 has presented itself via Zoom meetings.  In January, Susan Lighthart, who works at Jos A Banks, spoke to GRASG members about tailoring construction.   She started with an explanation of the layers that help shape jacket fronts. From the inside out, there is lining, a cotton fabric somewhat like a thin batting, a shoulder pad, canvas and the outer layer.  At the lapel fold, there is a ribbon of something like either twill or grosgrain to make the fold roll naturally.
Questions rolled in and Mary Anne's husband, Roger, was kind enough to model to make the whole thing more visual.  Pants questions varied from a front bubble to the differences in alterations between Men's and Women's pants.  Thank you Julie for all the valuable information.
February Meeting:
RC Caylan shared his story with GRASG members like we were sitting in the room together just having a casual conversation.  He explained his background and how he got where he is today at RC Caylan Atelier in Breton Village.  He is a fashion designer with true class who has done runway shows in Los Angeles and New York.  His designs for celebrities and for anyone who needs a special garment for a special occasion are truly phenomenal and made to reflect and complement the person he designs for.  His presentation for ASG included a wonderful tour of his studio. The front entryway chandelier to the sewing and design areas including his fabric stash and racks of beautiful creations were all on the tour and a thrill to see with a video of his former runway shows playing on a screen in the interview area.  It was truly a FUN evening!  Thank you RC.
2021 SERVICE PROJECTS
After Covid 'Stay-at-home' restrictions were lifted,  members started returning to GRASG events.  Pam Smith, Community Service Project Chair, began setting up new service projects for members to work on:  Santa Claus Girls Mitten Project and 'Sleep in Heavenly Peace' Quilt Project.  As of December 1, over 100 mittens were donated and 4  Quilts.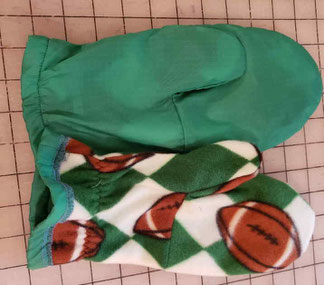 Mitten Project
Five ASG members gathered in November at the Senior Center to continue working on the Mitten Project for Santa Claus Girls.  This ongoing project started with the August Picnic, when worker bees cut out,  assembled kits, and sewed a few pair of mittens.  Since then, members have sewn mittens at neighborhood meetings and at home. In all, there are one hundred kits /finished mittens to warm the hands of children throughout the community.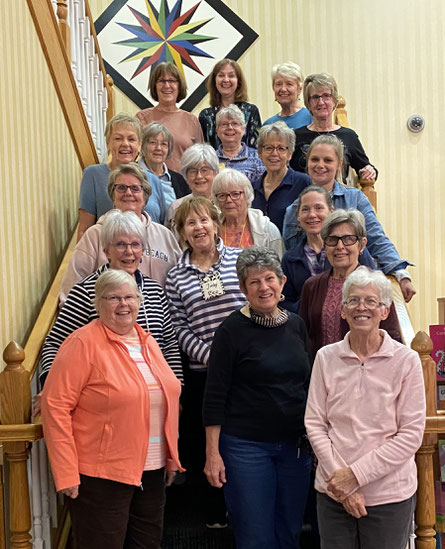 Retreat  October 2021 - Shipshewana Indiana (aka Amish Country)
Nineteen ladies traveled to Shipshewana for the annual GRASG weekend Retreat. How much better does it get than sewing, friends, shopping, stories, laughter, an Amish 'whodunit' musical/play, prizes galore, show & tell, free sewing advice, water aerobics, food and so much more. That only begins to describe the wonderful variety of things that happened around and about the Blue Gate Inn and Yoder's.  Thanks to Nancy Bender and Barb Marconi, organizers of the event, happy memories were made by all.
November 2021 Chapter Meeting
Joe Vecchiarelli, on his way to Novi for the Sewing Expo, stopped in at the November Chapter meeting to teach us tips and tricks. His stories were very entertaining. His fitting demos, draping with a dress form, and samples of things he had made, kept the audience very engaged. What a treat to have a known national sewing celebrity join us!
September 2021 meeting
Smiles walked into the room as more and more members spotted their long unseen sewing friends. It was wonderful to meet back in our normal space at the Plainfield Senior Center to kick off the 2021-22 ASG year.  We were happy to greet and meet visitors who came to see what we are all about. 
The speaker was a charming young lady named Ellen Leegwater, granddaughter of long time member, Barb Leegwater.  Ellen delighted everyone with her heartwarming story of learning to quilt and really getting hooked during the COVID shutdown. But she didn't end it at that. She displayed a trunk show of quilts, she calls her babies. As she went from quilt to quilt, she shared new techniques that she learned with each one. One of her quilts is called "Two Elephants."  She loves elephants and appliqued endearing representations of her and her Grandma randomly throughout the quilt.  Ellen used social media to learn techniques and often called Grandma for advice.  She is definitely a winner and a keeper in our GRASG family.
August Picnic
Fun and camaraderie filled the room at St Paul Lutheran Church in Caledonia where a group of busy ladies worked to make mitten kits for our Santa Claus Service Project.  A tasty potluck and games followed the service portion of the day. For more photos, visit our Photos page.
July 2021 meeting
Tomorrow, July 13, GRASG will be meeting at the Plainfield Senior Center (5255 Grand River Drive, Grand Rapids, MI 49525) for games and Show and Tell with lots of time to catch up. Social time starts at 6:30 p.m. and the meeting will run from 7-9 p.m.
Since we missed so many meetings last year, we decided to get together instead of skipping the month like we normally do. We would love to see the things you made during the pandemic. Even if you showed the item on a Zoom meeting, please bring it in person to share so everyone can enjoy.
Please come! Wear your nametag! We miss you. 😊
June 2021 meeting
On June 8, GRASG will have a social sew-in. It will be the first time we have been able to meet in-person, so we hope to have a lot of chatter among old and new friends.
While we visit and catch up on everyone's stay-at-home activities, we will be working on a community service project making mitten kits for the Santa Claus Girls/Toys for Tots program. Members will meet at the St. Paul Lutheran Church, 8436 Kraft Ave. SE in Caledonia. (Please note this a change in location from the previous announcement, when we initially thought we'd be meeting at D.W. Richardson Park in Plainfield Township). You can find patterns and instructions for the mittens we'll be making on our Patterns page.
An email will be sent with a supply list of things to bring for the first outdoor in-person meeting since last summer. If you are not yet a GRASG member and are interested in attending, please contact us for the supply list; we'd love to have you join the meeting!
As usual, the meeting will conclude with Show-and-Tell, so be sure to bring projects you'd like to share with the group.
May 2021 meeting
Kim Scherer from Kim Scherer's  Korner presented on sewing activewear, including the places she shops for her fabric and notions, the types of fabrics she buys and how to buy online and get what you really want. She discussed stretch, needles, threads, stitches to use and how to test before you sew. Testing on a scrap of the same fabric is the key to avoiding skipped stitches, correct tension and thread breakage. 
We welcomed several visitors to our Zoom meeting and hope they choose to join us again.  
Kim recommends these online shops for fabric and patterns: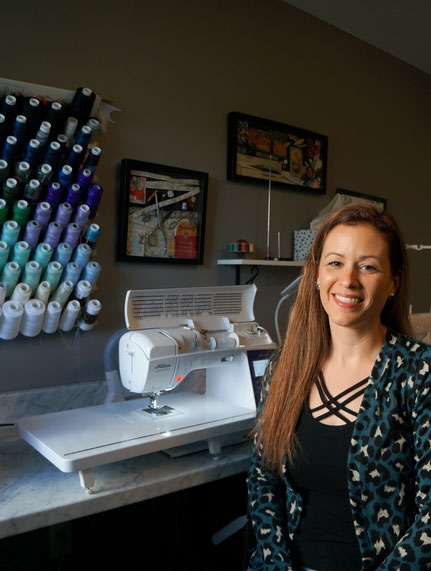 Fabric sites
Useful sites
 April 2021 meeting
The GRASG April Chapter met again on Zoom. The business meeting was followed by a lively group of our own members sharing. This meeting was the end of the Wool Challenge and definitely had some beautiful pieces that our members made.  One item by a new member of our chapter was a most impressive wool coat styled after the red coat of Nancy Pelosi. We definitely have a lot of talent among our members.   
Along with the display of wool items, members shared their favorite sewing tools. We had a lively display of many different items that make sewing easier. Seam rippers, in their various styles and shapes and functionality were mentioned the most. But, all in all, everyone took away at least one tool idea they had not thought of before. 
March 2021 meeting
Our Zoom meeting this month featured Elizabeth Rasmusson from Fabric.com. Her very interesting presentation on wools was fascinating.  She discussed about nine types of wool, where they came from, their properties and their most suitable uses.
Following her presentation, she let us know we're eligible to sign up for a 10% business discount on purchases from Fabric.com.  Watch the meeting video in the Members-Only section to get instructions.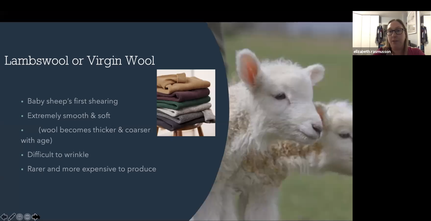 February 2021 meeting
Our Zoom meeting this month featured Maxine Steadman, who spoke about clothing adjustments for people with disabilities: how to alter existing clothing and favorite patterns to create garments that help individuals with challenges stay more independent.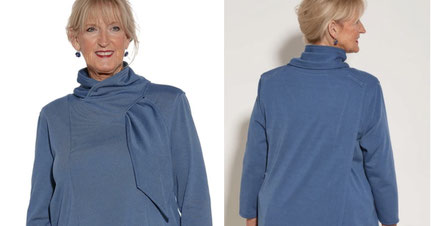 ---
The American Sewing Guild is a national non-profit organization dedicated to promoting sewing as creative, rewarding activity for all. 
Advancing sewing as an art and life skill
---