Upcoming quilting workshops from WMQG
Our friends the West Michigan Quilters' Guild will be hosting quilt pattern designer and instructor Coleen Merte in November for two workshops on Nov. 16 and Nov. 17. Each workshop costs $50 for WMQG members and $60 for non-members.
The Nov. 16 workshop covers "Pink Grapefruit," a traditional pattern recreated through a modern filter to make this stunning quilt. This is one of Coleen's most requested workshops. 
The Nov. 17 workshop covers "Christmas Wrapping," which takes elements of traditional quilts and arranges them into a fresh and contemporary quilt.
Volunteer opportunity to help Santa Claus Girls
GRASG has been working on mittens for several months to warm the hands of area children through the Santa Claus Girls program. Now Santa Claus Girls needs our help to assist them at headquarters on distribution day.
WHEN:  Saturday, Dec. 11, 2021 (see shifts below)
SHIFTS:  People are needed for different shifts for Saturday only.
Shifts for standing & FILLING ORDERS:
7:15 a.m. - 10:30 a.m.
10:15 a.m. - 1:30 p.m.
1:15 p.m. - 5 p.m.
Shifts for SHOPPERS for requested items for orders:
7 a.m.- noon    
noon - 5 p.m.
WHERE:  West Michigan CDL, 3370 Busch Dr SW, Grandville, MI  49418
WHAT TO KNOW: 
All volunteers must be vaccinated.  
Wear holiday attire, if you wish.   
Water will be provided, but please bring your own lunch or snack. 
With the process for the distribution this year, volunteers will need to be able to walk or stand for any length of time.  
HOW TO SIGN UP:  For those who wish to volunteer for Saturday, Dec. 11, 2021,  please call Mary Bartling at 616-540-7151 to schedule a volunteer shift.
September 2021 meeting
Smiles walked into the room as more and more members spotted their long unseen sewing friends. It was wonderful to meet back in our normal space at the Plainfield Senior Center to kick off the 2021-22 ASG year.  We were happy to greet and meet visitors who came to see what we are all about. 
The speaker was a charming young lady named Ellen Leegwater, granddaughter of long time member, Barb Leegwater.  Ellen delighted everyone with her heartwarming story of learning to quilt and really getting hooked during the COVID shutdown. But she didn't end it at that. She displayed a trunk show of quilts, she calls her babies. As she went from quilt to quilt, she shared new techniques that she learned with each one. One of her quilts is called "Two Elephants."  She loves elephants and appliqued endearing representations of her and her Grandma randomly throughout the quilt.  Ellen used social media to learn techniques and often called Grandma for advice.  She is definitely a winner and a keeper in our GRASG family.
August Picnic
Fun and camaraderie filled the room at St Paul Lutheran Church in Caledonia where a group of busy ladies worked to make mitten kits for our Santa Claus Service Project.  A tasty potluck and games followed the service portion of the day. For more photos, visit our Photos page.
July 2021 meeting
Tomorrow, July 13, GRASG will be meeting at the Plainfield Senior Center (5255 Grand River Drive, Grand Rapids, MI 49525) for games and Show and Tell with lots of time to catch up. Social time starts at 6:30 p.m. and the meeting will run from 7-9 p.m.
Since we missed so many meetings last year, we decided to get together instead of skipping the month like we normally do. We would love to see the things you made during the pandemic. Even if you showed the item on a Zoom meeting, please bring it in person to share so everyone can enjoy.
Please come! Wear your nametag! We miss you. 😊
June 2021 meeting
On June 8, GRASG will have a social sew-in. It will be the first time we have been able to meet in-person, so we hope to have a lot of chatter among old and new friends.
While we visit and catch up on everyone's stay-at-home activities, we will be working on a community service project making mitten kits for the Santa Claus Girls/Toys for Tots program. Members will meet at the St. Paul Lutheran Church, 8436 Kraft Ave. SE in Caledonia. (Please note this a change in location from the previous announcement, when we initially thought we'd be meeting at D.W. Richardson Park in Plainfield Township). You can find patterns and instructions for the mittens we'll be making on our Patterns page.
An email will be sent with a supply list of things to bring for the first outdoor in-person meeting since last summer. If you are not yet a GRASG member and are interested in attending, please contact us for the supply list; we'd love to have you join the meeting!
As usual, the meeting will conclude with Show-and-Tell, so be sure to bring projects you'd like to share with the group.
May 2021 meeting
Kim Scherer from Kim Scherer's  Korner presented on sewing activewear, including the places she shops for her fabric and notions, the types of fabrics she buys and how to buy online and get what you really want. She discussed stretch, needles, threads, stitches to use and how to test before you sew. Testing on a scrap of the same fabric is the key to avoiding skipped stitches, correct tension and thread breakage. 
We welcomed several visitors to our Zoom meeting and hope they choose to join us again.  
Kim recommends these online shops for fabric and patterns: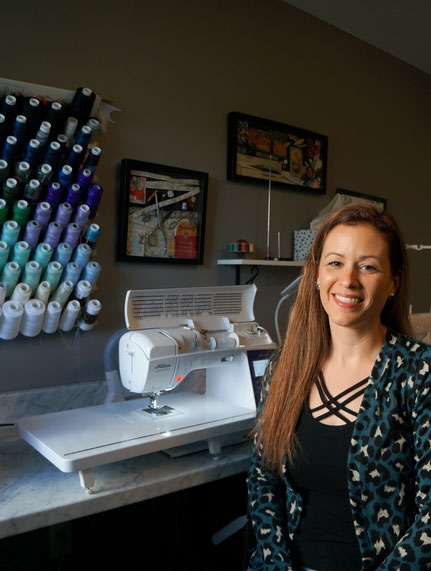 Fabric sites
Useful sites
 April 2021 meeting
The GRASG April Chapter met again on Zoom. The business meeting was followed by a lively group of our own members sharing. This meeting was the end of the Wool Challenge and definitely had some beautiful pieces that our members made.  One item by a new member of our chapter was a most impressive wool coat styled after the red coat of Nancy Pelosi. We definitely have a lot of talent among our members.   
Along with the display of wool items, members shared their favorite sewing tools. We had a lively display of many different items that make sewing easier. Seam rippers, in their various styles and shapes and functionality were mentioned the most. But, all in all, everyone took away at least one tool idea they had not thought of before. 
March 2021 meeting
Our Zoom meeting this month featured Elizabeth Rasmusson from Fabric.com. Her very interesting presentation on wools was fascinating.  She discussed about nine types of wool, where they came from, their properties and their most suitable uses.
Following her presentation, she let us know we're eligible to sign up for a 10% business discount on purchases from Fabric.com.  Watch the meeting video in the Members-Only section to get instructions.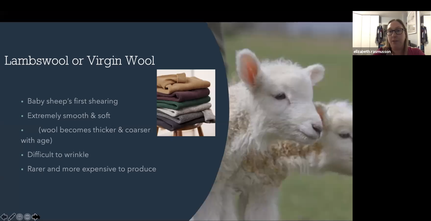 February 2021 meeting
Our Zoom meeting this month featured Maxine Steadman, who spoke about clothing adjustments for people with disabilities: how to alter existing clothing and favorite patterns to create garments that help individuals with challenges stay more independent.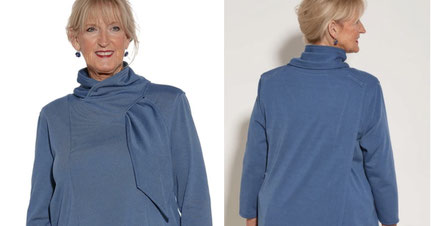 ---
The American Sewing Guild is a national non-profit organization dedicated to promoting sewing as creative, rewarding activity for all. 
Advancing sewing as an art and life skill
---